For senior leadership teams who need to maintain momentum and morale through times of uncertainty and growth.
A group of passionate individuals united by a cause can be powerful.
But without strong and effective leadership, that passion can turn individuals against each other and organizations inside out.
If we want to effect real change, we need leadership teams aligned not just on the greater goal, but on the path to getting there.
I help leaders and leadership teams achieve their highest potential, so they can increase the impact of their organization even in periods of massive change and uncertainty.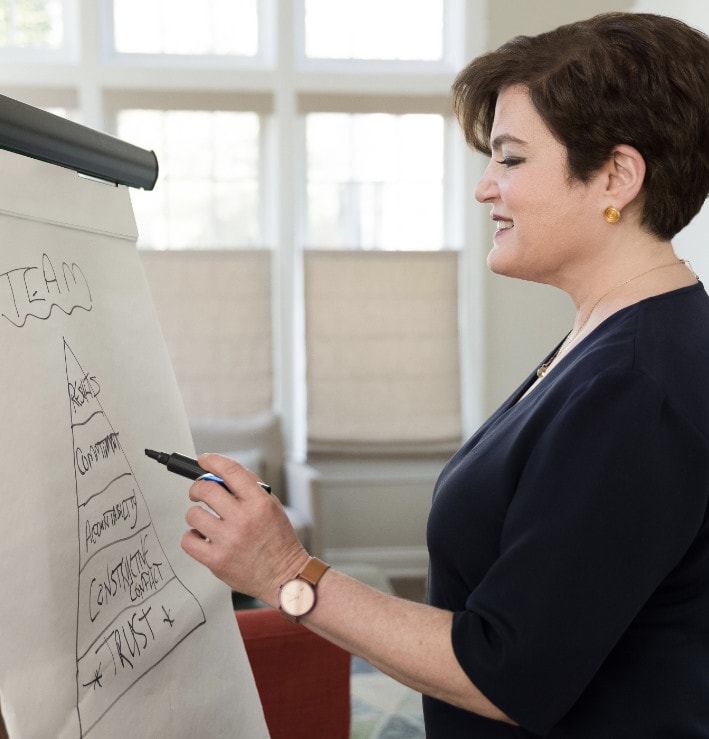 Align behind their organization's strategy.
Navigate challenges, uncertainty, and rapid growth.
Increase effective collaboration across the organization.
Establish new norms for developing their people.
Improve morale and employee retention.
The coaching process can be customized to suit an organization's specific needs. But in most cases, it includes the following four steps.
We begin by collecting data about the team and each leader, to understand their baseline and build their awareness of where they want to go.
Includes:
Individual self-assessments.
Psychometric assessments.
Team assessment.
Individual debriefs.
We then set clear goals and success measures as individuals and as a team, and align on our path forward.
Includes:
Team retreat.
Team debrief of assessments.
Team growth roadmap.
Team goals, success measures, and actions.
I'll observe your team in real-time and help them design and establish the new norms and practices they need to achieve their goals.
Includes:
Real-time observation.
Weekly or bi-weekly team meetings.
Experiments to be conducted between meetings.
Continued iteration of team growth roadmap.
We will conclude by reviewing the progress that has been made and deciding how the team will continue along the path they have begun.
Includes:
Follow up team assessment.
Team retreat.
Next phase of team growth roadmap.
Design process for sustaining progress.
Book a no-obligation call, to explore what coaching might look like for your executive team.
Common questions about team coaching
How can we measure the impact of team coaching?


At the start of the coaching process, we assess where you are now – as individuals and as a team – and agree on objectives and success criteria for where you want to go.
We will monitor progress against those objectives and success criteria, but you will also begin to notice that you are thinking and behaving differently.
We will conclude the coaching process with a final assessment to quantify your overall progress.
Why Team Coaching
It is unusual for a team to achieve its full potential without intentional work and focus. That's because team members have different agendas, experiences, and styles.
Team coaching begins with each individual looking inward and understanding themselves and their contribution to the team dynamic. Through real-time work –in retreat and weekly team meeting settings—the coach helps the team build the awareness, trust, and skills it needs to operate at maximum efficiency.
How much time is required?
You are already spending time and resources on conflicts and issues that lessen your organization's impact. Coaching will help you reallocate that time to productively move the leadership team and organization forward.
Team retreats and individual coaching will require team members to block out time in their calendars. But we minimize the amount of time needed by experimenting with different approaches to the work you are already doing.
How can we justify the expense of hiring a coach?
Organizations spend a lot to recruit excellent leaders and then do not spend the much smaller amount of money they need to help those leaders as a team to be successful.
In a rapidly changing environment, all leaders need to adapt and grow to address new challenges. This is hard to do on your own.
When you invest in developing your leaders, it pays dividends in additional funds raised, less wasted time of highly paid executives, greater impact, new partnerships, and successfully managed growth.
Will coaching make me appear weak or vulnerable with my staff?


People want to follow courageous leaders. But you can't demonstrate courage if you never open yourself up or allow yourself to be vulnerable.
Leaders need to show that they are open to learning and growth if they want their people to follow suit.
When can I expect results?
Real change requires shifting assumptions and habits created over many years. That's why I work with teams over the course of several months to not only identify the assumptions and habits that need to change but support them as they choose and practice new behaviors.
"Shari has a unique ability to help individuals and teams take their work to the next level. She deploys the full suite of coaching and strategy skills in a way that is customized to the task at hand. Her knack for identifying the root challenges that hold us back is unparalleled, as is her ability to create an environment that empowers people to tackle those challenges head-on."
Dale Bryk, Senior Attorney and Director,
State & Regional Climate Policies at the Harvard University Environmental and Energy Law Program
Let's explore the impact that coaching can make

in your organization & the world
Book a no-obligation, introductory call today.